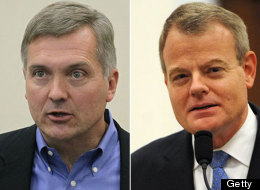 Rep. Jim Matheson (D-Utah), pictured left and Rep Mike McIntyre (D-N.C.), pictured right. (Photos by Getty Images)
More than three years after being signed into law, President Barack Obama's landmark Affordable Care Act still lacks unanimous support among House Democrats.
On Thursday, the House chose for the 37th time to repeal Obamacare, with a 229-195 vote in favor of axing the legislation. Clouded by a unanimous line of 227 Republican nays were two Democrats who voted against party lines: Rep. Jim Matheson (D-Utah) and Rep. Mike McIntyre (D-N.C.).
Matheson and McIntyre stayed true to form, as the Hill notes they were among the five Democrats who voted for repeal in July 2012. Reps. Dan Boren (D-Okla.) and Mike Ross (D-Ark.) retired, while Rep. Larry Kissell (D-N.C.) was bounced in his bid for reelection.
Both McIntyre and Matheson were on the verge of joining those names as election losers. A member of Congress since 2001, Matheson narrowly staved off a stiff 2012 challenge from rising GOP star Mia Love, winning by 768 votes. The same story held true for McIntyre, who edged GOP challenger David Rouser by 654 votes.
Related on HuffPost:
"; var coords = [-5, -72]; // display fb-bubble FloatingPrompt.embed(this, html, undefined, 'top', {fp_intersects:1, timeout_remove:2000,ignore_arrow: true, width:236, add_xy:coords, class_name: 'clear-overlay'}); });
Source: http://www.huffingtonpost.com/2013/05/17/jim-matheson-mike-mcintyre_n_3290432.html
kim kardashian pregnant papa johns dominos dominos Perez Hilton Michelle Obama Oscars Wissam Al Mana